POSTPONED – NEW DATE TBA
The story of Amnesty International began in 1961, when two Portuguese students were jailed just for raising a toast to freedom. In response, a British lawyer named Peter Benenson penned the article The Forgotten Prisoners, for the UK's Observer newspaper. In the article, he voiced that the global trend of imprisoning, torturing or executing people due to their political views or religious orientation was unacceptable. It was Benenson's vision to inspire and organise collective action that has defined the work of Amnesty International to this day.
60 years on, we have grown beyond a single office in Peter Benenson's London lawyer's chambers. We are now the global human rights movement, of over ten million people in more than 150 countries and territories, who stand up to injustice. Our work has grown to protect and empower people facing human rights violations. Together, we are taking action for human rights around the world. Together, we shine a light on great wrongs by exposing the facts others try to suppress. We lobby governments, and those in power, to make sure they keep their promises and respect international law. Through education and training we help people claim their rights. And by telling people's powerful stories we mobilise millions around the world to campaign for change.
Please record a video to be shared with our fantastic activists and groups https://share.vidday.com/c-7pr2ln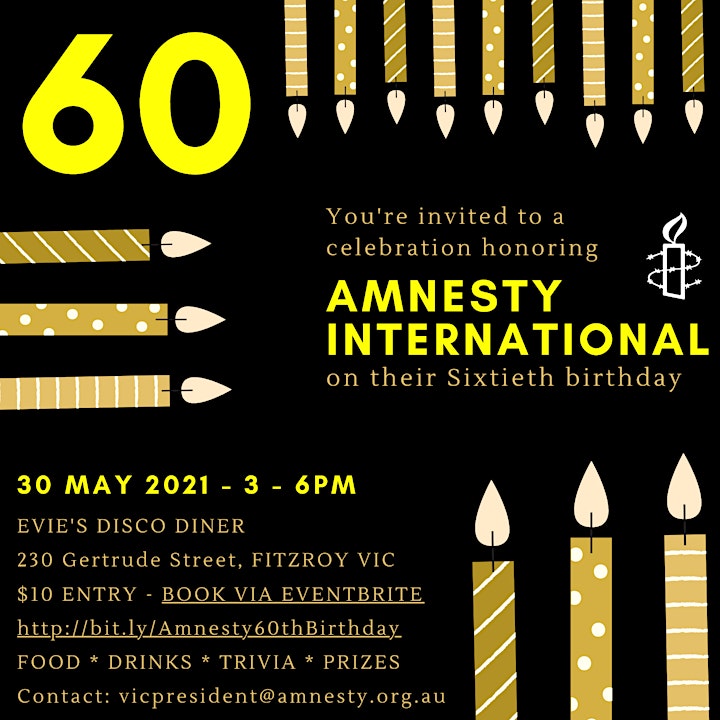 Event Contact
Suzan Gencay