When ordinary people stand up for freedom, equality and justice, we move closer to a world where human rights are enjoyed by all — it's a work in progress.
Thanks to Amnesty International Australia's (AIA) supporters, we've achieved some incredible wins in the first half of 2022. Whether you help provide lifesaving relief, raise awareness, or put pressure on the governments in charge, every action you take is helping drive our nationwide advocacy campaigns.
Here are some example of our human rights impact from Australia for refugee rights, LGBTQIA+ rights, First Nations justice and individuals at risk.
Historic progress for refugee rights in Australia
It is finally #GameOver
In March 2022, the Australian Government accepted New Zealand's long-standing offer of resettling refugees trapped in Australia's cruel offshore detention regime.
In 2019, when we started the #GameOver campaign, more than 600 people were still trapped offshore. Today, there are just over 200 people still detained in Papua New Guinea and Nauru. With these announcements, these people – left in limbo offshore by the Australian Government's brutal offshore detention policy – will now have the opportunity to restart their lives.
This is absolutely a historical moment in Australia. The power of people is stronger than politicians. The government couldn't resist this powerful pressure. Our consistency made this happen.

Mostafa (Moz) Azimitabar, human rights activist and former refugee held in offshore detention
Accepting the New Zealand offer is a small step to recovering Australia's humanity, and allowing refugees to live in safety and get on with their lives. Your compassion and persistence made this possible.
Remaining refugees released from APODs
In April 2022, the remaining refugees released from Alternative Places of Detention (APODs), including the notorious Park Hotel in Melbourne.
Approximately 200 refugees trapped offshore were transferred back to Australia for medical treatment. Here they were trapped again in run-down hotels, with no access to the outside world. Now, they are living within the community that called for their freedom. Now, our fight continues for a long-term solution.
Sponsorship program has been reformed
In the final days of 2021, we welcomed the announcement from Immigration Minister Hawke of an expanded and improved refugee sponsorship program that significantly reduces the costs of sponsorship for a family of four people, and a commitment for an increase in the program to 10,000 places, and increase in places to almost 6,000 over the next three years.
"After presenting the support of 40,000 Australians, from 40 communities and their local governments calling for a fairer refugee sponsorship program to our political leaders Amnesty welcomes the new pilot scheme and the improved CSP".

Shankar Kasynathan, former AIA refugee campaigner
AIA's My New Neighbour campaign, born in response to the world's refugee crisis, was recognised by the Minister as a key factor in delivering this outcome. Community sponsorship – where everyday people in the community contribute towards the cost of resettling a refugee – enables families to rebuild their lives in safety.
Increased the refugee and humanitarian intake
Since 2020, Australia has reduced its annual humanitarian intake by 5,000 places each year. The intake is already at its lowest in decades. As world crises like Ukraine, Afghanistan and Myanmar escalate, Australia has the capacity to help.
As part of AIA's responsive campaign work, our Amnesty researchers verified the Russian military's violations of the laws of war and over 15,000 supporters called for Australia to welcome more Ukrainians seeking safety. Similarly, news articles about our research in Afghanistan, like this one, were seen over 260,000,000 times, and more than 42,000 people took action calling for Australia to provide safe passage to people fleeing the Taliban.
In March 2022, AIA campaigners stood alongside representatives of communities from Myanmar, Afghanistan, and Ukraine at Parliament house to urge for additional humanitarian places for people seeking safety.
Our supporters' compassionate actions plus AIA's advocacy with communities has been recognised by the Home Affairs and Immigration Ministers and resulted in:
2,000 additional places made available within the humanitarian intake for people fleeing from Myanmar's humanitarian emergency due to the military junta's consistent attacks on civilian areas;
16,500 places for people to be resettled from Afghanistan to meet the needs of people fleeing Afghanistan since the Taliban's violent takeover in August 2021;
5,000 places for Ukrainians seeking refuge from the devastating outbreak of war in February 2022.
What's next?
Join the call to hold the new Albanese Government to their promise to increase the Refugee and Humanitarian Program and ensure their promised reforms to the Community Sponsorship Program.
Learn more about our Refugee Rights campaign work.
LGBTQIA+ rights were protected in Australia
After months of campaigning, direct advocacy with key politicians and through working in coalition with Equality Australia and other LGBTQIA+, disability and health organisations, the Religious Discrimination Bill was shelved in February 2022.
The proposed Bill supposedly protected religious people from discrimination. In reality, it would give religious people the right to discriminate against others.
AIA worked with a broad coalition of rainbow partners to lobby against the passing of Latham's discriminatory bill targeting LGBTQIA+ communities, falsely titled the NSW Religious Freedoms and Equality Bill. The brilliant submission drafted by the NSW Rainbow Group was a powerful advocacy tool in achieving this outcome.
What's next?
Call on Prime Minister Albanese to implement a Human Rights Act so that basic human rights are never up for debate. A national-level protection will mean everyone's rights are protected so that we may live with the dignity and respect we all deserve.
Learn more about our LGBTQIA+ rights campaign.
We will continue to fight to secure First Nations justice
In February 2022, AIA amplified evidence illustrating the use of spit hoods and other items labelled by Amnesty as Tools of Torture in the Northern Territory – in direct contravention of the recommendations of the recent Royal Commission.
AIA has been in contact with key political representatives and amplified the issue nationally through the media. We have joined calls from Aboriginal health and rights groups to end the use of spit hoods in detention and will continue to fight to secure justice alongside the First Nations community.
Learn more about our Indigenous justice campaign work.
We protected individuals at risk around the globe
Write for Rights 2021 celebrated 20 years
The world's largest annual human rights event Write for Rights turned 20 years old in 2021. A total of 275,000 actions were taken by 103,000 people in Australia alone, to defend human rights and challenge the injustice of 10 individuals at risk cases around the world. Every year, real change happens because of these actions. Almost one year on, the campaign is already make an impact.
Learn more about our Write for Rights campaign.
Iranian women's rights activist Atena Daemi is free
In January 2021, Atena Daemi was released from prison in Iran after years of public pressure. Atena was locked up for five years under trumped-up charges, beaten, pepper-sprayed and forced into solitary confinement for her courageous advocacy to end the death penalty. We met with Members of Parliament about Atena's imprisonment, 60 of whom wrote to the Iranian embassy calling for her release.
"I'd like to thank you for your empathy, solidarity, support and struggles all these years which have been by family's moral support and my inspiration. I hope that we'll achieve our first and last wish, which is freedom, public awareness and the realisation of human rights"

Atena Daemi
More than 22,000 Australians sent solidarity messages to Atena and campaigned for her release during Write for Rights 2018. Every signature counts. Together, we are powerful.
Poland has acquitted the three rainbow halo activists
In January 2022, Poland acquitted rainbow activists Elżbieta Podleśna, Joanna Gzyra-Iskandar and Anna Prus known as the 'rainbow halo three' after absurd charges were laid against them for offending religious beliefs when they arranged the Virgin Mary's halo into a rainbow.
Amnesty supporters in Australia and internationally called for their acquittal.
Mexican-American mother Melissa's execution has been halted
In April 2022, The Texas Court of Criminal Appeals stayed the execution of Melissa Lucio, two days before she was scheduled to be put to death. She has been convicted of the murder of her two year old daughter – an allegation she has always denied. Now, new expert evidence supports her innocence, concludes the allegations made against her are unscientific, and exposes the unfairness of her trial.
Her case inspired thousands of supporters to take action and demand a halt to her execution.
"I am grateful the court has given me the chance to live and prove my innocence"

Melissa Lucio
Egyptian researcher Ibrahim is released
In April 2022, housing rights researcher Ibrahim Ezz El-Din was released after nearly three years in detention as part of the worst crackdown on freedom of expression in Egypt's recent history. After being forcibly disappeared for 167 days, Ibrahim finally 'appeared' after being brought to the courts in Cairo.
People power and pressure on the authorities has made a huge impact. We will continue fighting for the release of thousands of other human rights defenders jailed on politically motivated charges.
British-Iranian charity worker Nazanin is free
In March 2022, Nazanin Zagari-Ratcliffe was released after years of being unjustly imprisoned on trumped-up national security charges, a familiar tactic in Iran where she was detained. She was separated from her husband and daughter for six years.
More than 29,000 Australians took action for Nazanin, contributing to more than one million actions across the global Amnesty movement.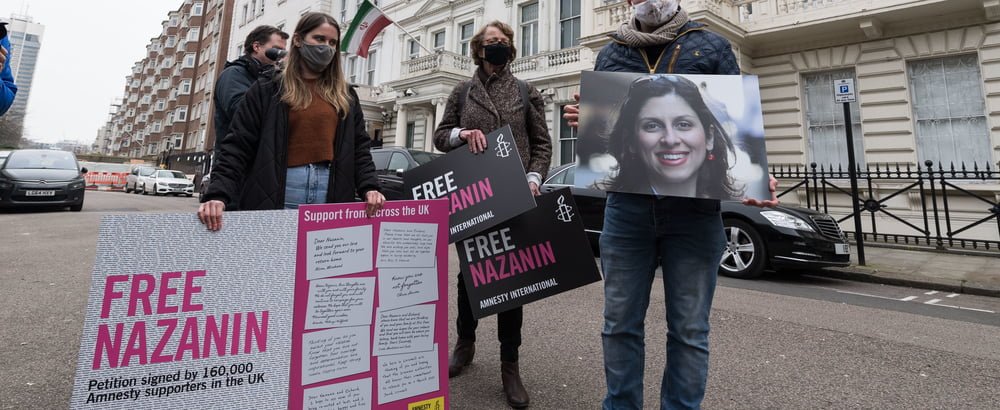 Together, we've campaigned for the freedom of more than 50,000 unjustly imprisoned people like Nazanin. Time and time again, we've proven that when we mobilise, we can make governments do the right thing.
Guatemalan Indigenous rights defender Bernardo Caal Xol is released
In March 2022, Bernardo Caal Xol was released from prison in Guatemala where he had been detained for speaking out against the destruction of rivers sacred to his people. As part of Write for Rights 2021, 21,000 Australians contributed to 511,000 global actions demanding his freedom. Bernardo was released and reunited with his family after more than four years of imprisonment.
"Amnesty International gave me hope of freedom and now I am free. I am now with my family, I am now with my daughters, and I am now with my partner. My mother has already cried with happiness to see me free. Thanks to each one of you, thanks to each one of you for spreading and sharing my letters."

Bernardo Caal Xol
Magai's child death penalty sentence in Sudan is commuted
In March 2022, Magai Nationg was released from prison. Magai was a 15-year-old secondary school student in Sudan when he was sentenced to death by hanging after being convicted of murder in Sudan, which he claims was an accident.
Magai grabbed global attention through Write for Rights 2019, where almost 18,000 Australians contributed to over 750,000 global actions calling for his death sentence to be commuted.
We will continue to monitor Magai's case and campaign for the end of the death penalty, in South Sudan and around the world. Learn more about our End the death penalty campaign.
Amnesty International is a global movement of 10 million people standing up for justice, freedom and equality. Together, our voices challenge injustice and are powerful enough to change the world.

Find out more about what we do, our impact and our current campaign cases.